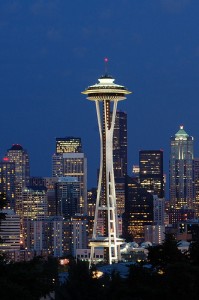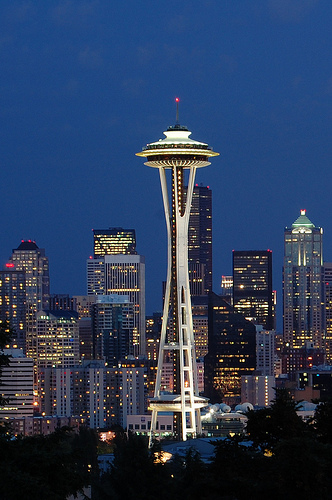 No one likes to live in a boring community. If you're looking for an exciting scene with great Seattle apartments, here are two winners:
Lower Queen Anne – population: 8,530, average apartment rent: $945
This is the downtown neighborhood where all the cool things happen all the time. There are plenty of apartments and condos in this downtown Seattle district and there are also over 100 restaurants, bars, and fast-food spots. If your apartment is in this district, you will never be bored. Popular attractions include:
Ride the Ducks tours that take you around the city by land and by sea — get ready for when they lurch into the water
The Experience Music Project and Science Fiction Museum lets your imagination run wild as you explore different types of stars: those of rock-and-roll, and those that twinkle from the night sky with the promise of adventure
The Seattle Center Monorail provides a convenient link to various parts of the city, and it's also super fun to ride; plus it's useful for locals and not just tourists
The Seattle Space Needle is a signature landmark of Seattle and offers a wonderful way to see the city, plus dine at a great restaurant at the top
The Children's Museum is a wonderful 22,000 square foot environment for children ages birth – 10 years and their families — if you have kids you want to buy a pass so you can come all the time
Pike Place – population: 2,318, average apartment rent: $812
This neighborhood is the home to one of the oldest continually-operated public farmers' markets in the country. Check out some of these wonderful attractions in and around Pike Place:
The Seattle Center Monorail has a stop here to connect you to all the great attractions in the Lower Queen Anne neighborhood
The Seattle Aquarium is arguably one of the best aquariums in the United States
The Moore Theater is the oldest active theater in Seattle
The Pike Place Fish Market is a little stinky, but lively — employees throw fish over the counter when a customer orders one
When you pay a visit to Seattle apartments in these neighborhoods, prepare yourself for the fact that there will be tourists around; but, your apartment will likely be hidden away around a corner from all the action, which you'll come to appreciate after living there for a while. If you love people, though, this is a great place for you to end up.
How about you? Any luck finding Seattle apartments? Comment below.
***If you'd like some help finding an apartment in Seattle, I've got a whole staff of people standing by to help you for free. Call one of our apartment experts at 877-676-1767.
Or, click here: https://www.aptsseattle.com/discover-seattle-apartments
[Image credit: 33469998@NOO]