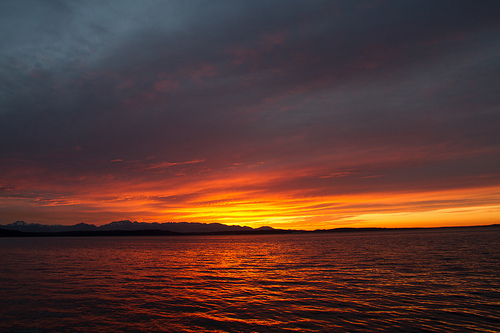 Some people really like living in Seattle and apartments there that get crammed in with everyone else. Others of us would rather live on the beach or close to parks. If you're like me, you'll enjoy these three neighborhoods away from downtown.
Alki – population: 5,606, average apartment rent: $1,100
The westernmost point in the West Seattle district, the marina waterfront is home to many apartments, bungalows, and condominiums. Plus, it is beautiful — you can see the Seattle skyline across the water.
Alki Beach is one of the most traditional beaches in the area, all the sights and smells are just right and the people-watching is delightful. The summer concerts aren't half-bad either.
If you end up here, you must try a twice-baked almond croissant from Bakery Nouveau and the tapas at Phoenecia.
Seaview – population: 4,929, average apartment rent: $1,012
Just south of Alki, Seaview is a wonderful little neighborhood right on Puget Sound. With beautiful parks all around, Seaview isn't quite as busy as the more tourist-oriented Alki to the north.
Some of the parks in the neighborhood are:
Me-Kwa-Mooks Park – largely undeveloped, the dense trees are homes for screech owls and other wild birds.
Lincoln Park – just south of Seaview, this park has a heated salt-water swimming pool during the summer, a paved walkway with beautiful views, baseball fields, tennis courts, and more.
The homes in this area are beautiful and property values aren't struggling as much as other parts of the city, in spite of the current economy.
North Admiral – population: 12,101, average apartment rent: $1,174
The oldest neighborhood in this part of the city, it used to connect to Seattle by a cable car and ferries. Currently, there's a great water taxi that carries people over to downtown Seattle in a quick 10-minute trip which provides some of the best views of the city.
One of the most unique features of this neighborhood is the presence of Schmitz Preserve Park which consists nearly entirely of old-growth forest. Some of the trees here are 250 years old. Wonderful hiking trails allow visitors to see what the area looked like before modern settlement took over.
The metropolitan market in this neighborhood has a great deli and you'll love everything about the store. If you need a little pampering, make sure to visit the Head To Toe Day Spa, where a facial is much more than a facial, it's an experience.
I love this little section of West Seattle, and apartments here are found in all the perfect spots. I'd love to live in an apartment on Alki Beach and take part in all the fun that's found there each summer — maybe you can do it for me.
How about you? Any luck finding apartments in Seattle? Comment below.
***If you'd like some help finding an apartment in Seattle, I've got a whole staff of people standing by to help you for free. Call one of our apartment experts at 877-676-1767.
Or, click here: https://www.aptsseattle.com/discover-seattle-apartments
[Image credit: razvanorendovici]